Key details
Franchise:
Daisy First Aid
No. of franchises:
Undisclosed
---
Fancy joining the Daisy First Aid Franchise?
Daisy First Aid is a multi award winning training company providing 2 hour first aid classes for parents and carers in their own homes and local venues.
We want children to run, jump and play but occasionally accidents happen or a child becomes ill.
Our brilliant franchisee's give parents the knowledge and confidence to deal with these first aid situations should they arise. Our lesson plans are designed not to frighten parents but provide a fun and easy way to learn emergency first aid.
Paediatric first aid is not a prerequisite for new parents… but it should be.

Daisy First Aid are making it easy, fun and affordable for parents to acquire the skills that could ultimately save their child's life.
Franchisee's have exclusive territories and can book classes to fit around their own busy lives. We also offer the support for those trainers who wish to progress further in their training and provides courses for schools and the childcare industry.
Previous first aid or teaching experience is preferable however it is more important that we find people who will bring fun and vibrancy to our classes and who will work hard within the Daisy First Aid team to build the brand and maintain our fantastic reputation

There are currently franchise packages available in all areas of the UK
As a Daisy First Aid Franchisee you would
…
Manage your own Daisy First Aid business within your local/chosen territory. 

Choose when to work and arrange your bookings around your family life 

Train 2 hour Daisy First Aid classes to parents and carers within your area

Locally market and advertise your Daisy First Aid business, establishing the brand and your reputation. Becoming THE 'face' of Daisy First Aid for your territory

For a 2 hour class you will earn minimum of £100 and maximum of £500 depending on how many people attend your class

To start your Daisy First Aid business you will be provided with
Full training

A supported step by step guide to setting up and running your business

All your training material and equipment

Access to Daisy First Aid trade marks and paperwork


Uniform

Training and support on marketing your business

Training and Support on finances and book keeping

You won't be alone, you will have friendly, direct and regular contact with your mentor who will help answer your questions


You will be provided with continual personal development to ensure the training you provide is always current and in line with leading UK first aid societies
You will pay absolutely no additional fee's for the first 12 months whilst you establish and build your business!
Lucy
Daisy First Aid Clapham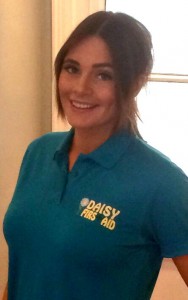 Hi I'm Lucy, mum to 2 little ones and Daisy First Aid franchise owner in Clapham London. I had previously attended one of the Daisy parent classes for my own two children and thought it was brilliant.
I felt so strongly that every parent needed to learn these life saving skills that I joined the team shortly after.
I now work my classes around my children so I no longer need to pay for childcare, get quality family time plus I do a job that I absolutely love. The rest of the DFA team are all really supportive and it's exciting to see the company growing so quickly.